Unique Winter Eagle Watching Tour
Grab your binoculars and join us for a unique winter eagle watching tour! Explore the park at its most serene as we cruise silently up the canyon in our eco-shuttle in search of these captivating winter visitors. In addition to the chance to spot wild eagles, this tour is also an excellent opportunity for nature and wildlife photographers!
Guided eagle watching tour through the park in open-air, electric eco-shuttle. Shuttle will stop for eagle sightings, as well as two designated point of interest stops. Tour will turn around at the back of the canyon near trapper's cabin. All park waterfalls are included, however, the Bison and Elk pasture is not included in this tour.
Pricing Details
Offered: January, Sat/Sun from 9:30 to 11:30am
$25 Adult (plus admission)
$15 Child (plus admission)
$5 discount to members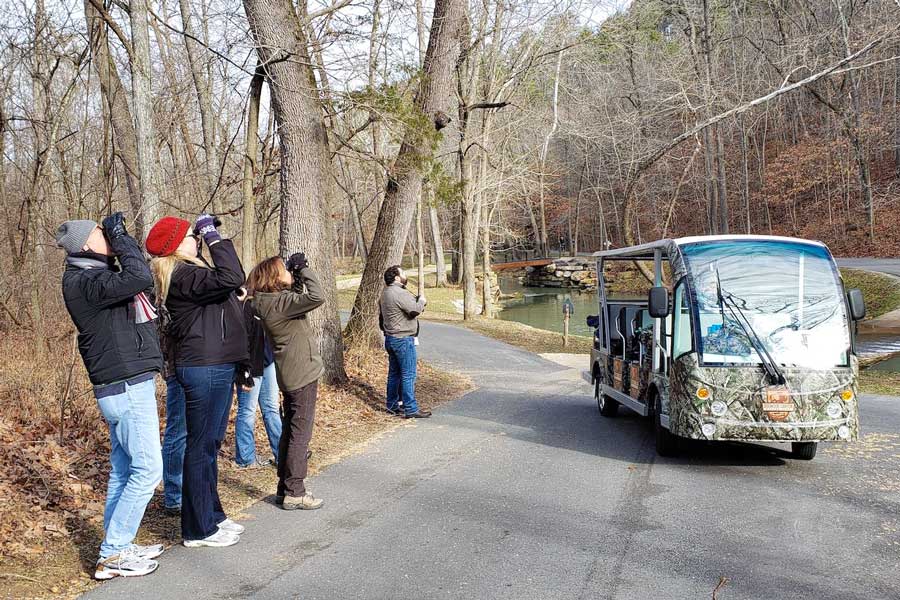 ---
Dress for the season as the shuttle is an open-air vehicle and the tour will last up to 2 hours.
Offered: January, Sat/Sun from 9:30 to 11:30am
Vehicle: Eco-shuttle or Park shuttle
Capacity: 10 guests, 2 guides
Price: $25 Adult, $15 Child (plus admission), $5 discount to members
Tour length: 1.5-2 hours
Route: shuttle will travel from breezeway to trapper's cabin. Tour will NOT enter Bison/Elk pasture.
Amenities to guest: binoculars and hand-warmers provided